What is your method of choice for removing your unwanted hair? Laser Hair Removal is the answer to all your problems!

Are you a shaver, a waxer, or a tweezer??

Whilst these short term methods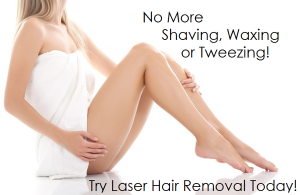 are fairly effective and inexpensive at the time, they are a life long commitment- meaning that over the course of your adult life you are spending a small fortune, both in financial terms and in terms of the most precious commodity of all- your time!! (not to mention the pain!!- ouch!)
Laser Hair Removal on the other hand ticks all the boxes!! It is virtually pain free, fast and effective,you will find yourself hair free for the forseeable future, if not for life!! 
We only use medical grade ALMA lasers, and so you can be assured that our laser hair removal treatment is 100% safe and the best that the industry has to offer!!
Contact us on 01695 571777 or visit our website www.theaestheticclinic.com to book your free consultation today!!
We want to help every person in our region, Ormskirk, Aughton, Southport, Liverpool, Preston, Skelmersdale, Wigan….all over Lancashire and Merseyside, to be confident in their own skin!!