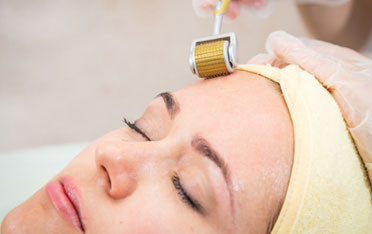 Treatment Detail
Medical Micro-Needling uses a process of advanced skin micro needling to encourage skin to regenerate and repair itself naturally resulting in a rejuvenated, healthier and fresher appearance to the skin.
Clinically proven to improve facial and décolletage lines and wrinkle, acne scarring, stretch marks and ageing skin.
HOW IT WORKS
The micro needling device is rolled in a uniformed way in the skin producing thousands of micro needle columns which penetrate the dermis at different levels.
The skin will start to naturally regenerate and repair the damaged skin working on a cellular level in the deep dermis.
This process will continue over the following weeks after the procedure when new collagen and elastin cells are generated resulting in a strong, thicker, firmer and plumper dermis.
Medical Micro-Needling can also be used alongside vitamin and hyaluronic acid products for added benefits.
Depending on the condition being treated, a course of between 3 and 8 sessions is recommended.