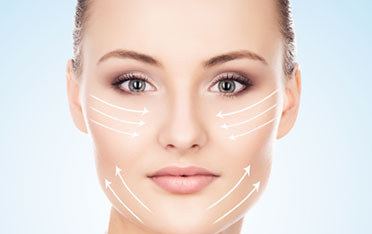 Treatment Detail
This procedure involves using PDO (polydioxanone) threads to lift, tighten and strengthen the skin in the face, neck, décolletage, eyes and jaw.
How does PDO (polydioxanone) work?
A PDO thread is a strong synthetic fibre consisting of one or two twisted style threads. Polydioxanone has been used in medicine for over 20 years, mainly in absorbable threads used in surgical procedures.
The insertion of these fine threads both induces skin tension and stimulates fibroblast activity around the thread leading to new increased collagen production.
The threads are completely absorbed and the aesthetic effects of the newly formed collagen can be managed for 24-36 months depending on initial skin conditions, age, metabolic rate and lifestyle implications.
What parts of the body can be treated?
Areas that can be treated include:
• brows
• under eyes
• nasolabial folds
• marionette/jowl area
• chin
• dѐcolletage
• corners of mouth
• hands
• knees