Treatment Detail
Hair loss can affect any individual at any time during their life and can lead to problems with confidence and self esteem. The causes of hair loss can be a complex area and needs a thorough assessment during consultation.
For general common loss and thinning, a combination of Platelet Rich Plasma (PRP) and Mesotherapy treatments gives excellent results of producing new hair growth and strengthening and thickening current hair growth.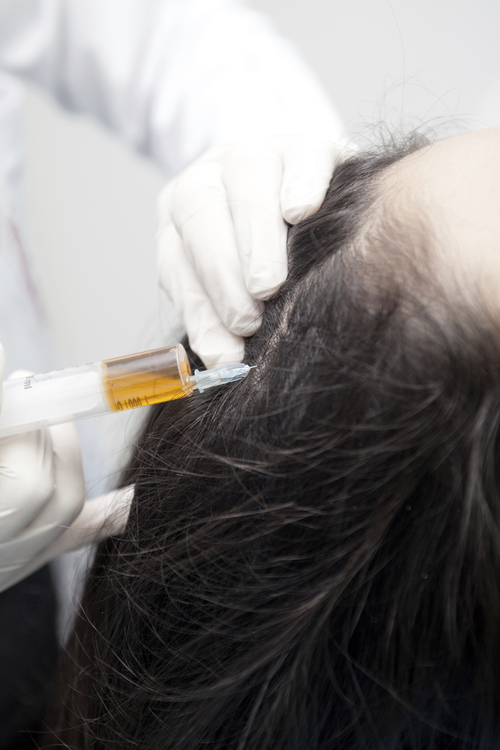 What is Hair Restoration?
PRP involves taking a sample of blood and spinning it in a centrifuge to separate the plasma and platelets and then injecting these into the scalp using very fine needles.
The stem cells found in the plasma contains essential and specific growth factors that assist in tissue regeneration and healing. It contains many growth factors that stimulate the hair follicle and assists in the formation of new cellular growth.
PRP can be used for general hair restoration, alopecia patches, alongside hair transplantation and thinning hair. PRP as a 100% safe, natural and non-surgical option, offers patients with miniaturisation and hair thinning, improvements in hair calibre and thickness.
What is Mesotherapy?
Mesotherapy is also a non-invasive treatment involving the direct microinjection of vitamins, minerals, amino acids, nucleic acids and co-enzymes into the scalp to correct depletions in these supplements and stimulate blood circulation to the hair follicles.
Mesotherapy for hair restoration is used with great success in Europe and the United States. The treatment is virtually painless and there is no dressing or anaesthesia required.
Areas we cover include, Ormskirk, Aughton, Maghull, Aintree, Melling, Birkdale, Crosby, Formby, Parbold, Wigan, Preston, Skelmersdale, Southport, Blackpool, Lytham St Annes, Liverpool, Warrington, Stockport, Bolton, Chester, Chorley, Manchester, Knutsford, Cheshire, Lancaster and more…